The second wave of the pandemic in Poland in autumn has induced a "K-shaped" recovery, with industry being a bright spot and services (esp. HoReCa and entertainment) lagging behind. Trends in the real economy in early 2021 have not changed significantly. Nevertheless the third wave of the pandemic and the prolonged period of restrictions have forced us to revise our GDP growth forecast in 2021 downwards to 4.7% (from 5.1%). The growth engines identified by us a quarter ago (monetary, fiscal and trade impulses plus reduction of household savings) are still in play and will emerge in full force along with a significant easing of restrictions.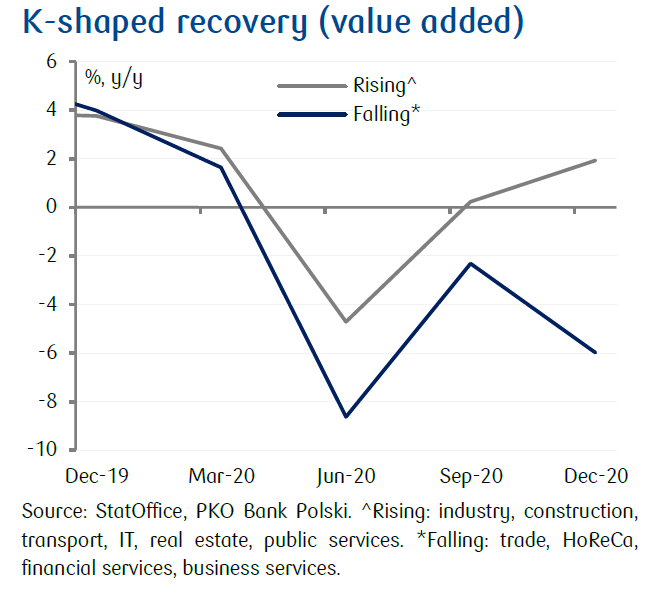 We stick to the assumption that in 2q21 the unemployment rate will enter a downward trend and at the end of the year it will return to the pre-pandemic level.
We still predict CPI inflation at 3.1% on average in 2021, with the balance of risks tilted upwards. Mounting reflation trends in the commodity markets and the 'second round' effects will be the main pro-inflationary factors ahead.
We believe that the trade and current account surpluses are already permanent elements of the Polish macro picture.
NBP interest rates are likely to remain stable even until the end of 2022. In their rhetoric, both MPC members and Governor A.Glapinski increasingly refer to the ECB and the Fed, which indicates that the decisions of Polish monetary authorities are dependent on the monetary policy of major central banks.
We estimate that fiscal deficit (ESA) will decrease to 3.4% of GDP in 2021 from 9.2% of GDP in 2020.